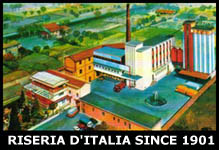 The RICE-MILL OF ITALY has produced rice since 1901.
The considerable experience we have acquired over this period has enabled us to guarantee the highest possible quality for our rice, and also an impeccable service to our clients. The modern equipment and machinary used in accordance with our old traditions give us a hightly selective form of production, worthy of our famous trademark, which is respected throughout the world.
Our modern packaging, both practical and essential, allow us to satisfy every request and every market requirement. In the following pages, we invite you to look at our rice-mill, so that we can show you how we produce the rice that arrives on your table.